---
    On December 4, 1920, Amrita Grotto was organized with 54 charter members.  It is quite probable that none present on that occasion had ant idea of the greatness of the task the 54 members were about to perform.  From this little band of happy, smiling Prophets has sprung one of the foremost social and fraternal organization in Arkansas, and one that is recognized as a leader among the Grottos of the entire Realm.  Thus is the beginning related by Gene Bly, the first Monarch of Amrita Grotto.
    "There is something that cannot be explained about the good fellowship and cooperation of its members, but this Amrita spirit existed from the outset, and exists today in increased volume," Prophet Bly said.  "Amrita Grotto is a band of Master Masons, and as such, they have found that every cloud has a silver lining, and that every whispering breeze as it passes us has a message of gladness; every sunrise and sunset a gorgeous beauty; all humanity, whether rich or poor, regardless of of color, has a spark within its breast capable of responding to noble deeds," Bly continued.
    "Amrita Grotto is an organization with a soul and its greatness is measured in term of service.  It has united Masons from more than 100 different towns and its members reside in many states, while other members are in the armed forces.  The Grotto has been of inestimable service to the Masonic fraternity in more ways than one, and the good will and best wishes of Masonry in Western Arkansas and Eastern Oklahoma.  It is certain that Amrita Grotto will continue to grow and prosper, as long as the officers and members continue to carry out Amrita's operations on the high plane that has been maintained in the past,"  Past Monarch Bly said in conclusion.
(Statement taken from the July 1955 issue of  'The Amritian' in observance of Amrita's 35th anniversary.)
 
Amrita Grotto Charter Roll
June 28th, 1921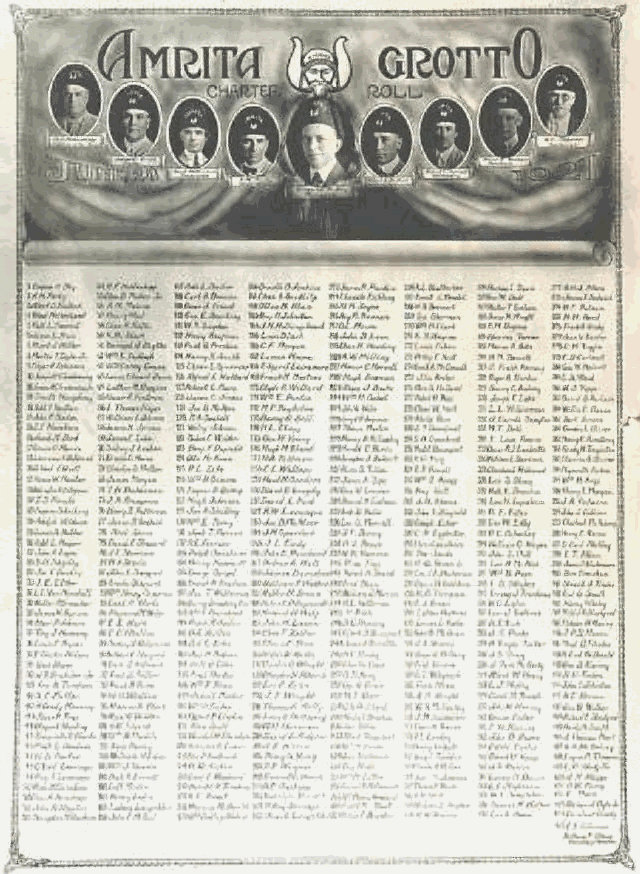 ---
Fort Smith Masonic Band
(All members of Amrita Grotto)
November 11th, 1922